We are experts in multimedia and website development
We help businesses achieve their goals by providing innovative solutions that enhance efficiency, productivity and cost-effectiveness.
GRAPHIC & MULTIMEDIA
We create stunning graphic and multimedia content for your business, from logos and flyers to videos and animations. We use the latest tools and techniques to deliver high-quality results that capture your brand identity and message.
We design and develop professional and user-friendly websites for your business, from landing pages and blogs to e-commerce and portfolios. We use the best practices and technologies to ensure your website is fast, secure and responsive.
MOBILE APPLICATION
We build and deploy native and hybrid mobile applications for your business, from games and social media to productivity and utility. We use the most popular platforms and frameworks to ensure your app is compatible, functional and engaging.
From multimedia to websites, we create stunning solutions that boost your business performance and save you money.
WE HELP BRANDS CREATE, BUILD, AND LAUNCH AMAZING PRODUCTS.
We design and develop the most advanced and feature-rich products using the latest quality standards, business strategies, and creative approaches. We use an agile development method to ensure fast and flexible delivery.
PLANNING
We listen to your needs, analyze the challenge, and collect data.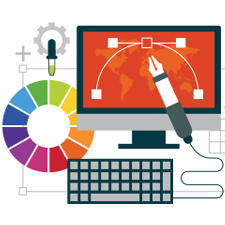 DESIGN
We sketch wireframe layouts, prototype designs, and get your thumbs up.
DEVELOP
We code the product, layout the main sections, and get your input.
DEPLOY
We verify the design quality, test the product, and get your green light
Personal Website:
RM5 to RM25 /mo
Professional Blog:
RM25 to RM75 /mo
Small Business Website:
RM35 to RM100 /mo
SMB Business Website:
RM125 to RM500 /mo
Corporate Website:
RM200 to RM3500 /mo
Web Application:
RM300 to RM2500 /mo
Custom Business Website:
RM350 to RM4500 /mo
Ecommerce Website:
RM1500 to RM2500 /mo
Custom Ecommerce Website: RM2000 to RM5000 /mo
Urgent support for website hackings

Making daily full-site backup and storage of your site. This is important to prevent data loss in case of server failure, hacking, or human error. 

Daily security scans, security patches and CMS upgrades – making sure WordPress is up-to-date is crucial for maintaining a secure website, not to mention the same applies to plugins and themes used on a site. 

Website monitoring – make your clients feel safe by knowing you will monitor their site for any security issues and downtime. You can offer to implement a firewall, install an SSL certificate, perform regular security scans, and set up a notification system for downtime monitoring

Testing loading speed. This can affect your site's performance, usability, and SEO. You should check how fast your site loads on different browsers and devices and make necessary improvements to reduce loading time1.

Fixing dead links and errors. These can harm your site's credibility, functionality, and SEO. You should check for broken links, missing images, spelling mistakes, grammatical errors, or other issues on your site and fix them as soon as possible1.

Adding visuals to make pages more attractive. This can help you improve the user experience and the aesthetic appeal of your site. You should use high-quality images, graphics, videos, or animations that match your site's theme and purpose1.

Checking search rankings. This can help you measure your site's visibility and popularity on search engines like Google or Bing. You should monitor your site's ranking for relevant keywords and optimize your site for SEO1.

Testing browser compatibility. This can ensure that your site works properly on different browsers and devices that your visitors may use. You should test your site on various browsers such as Chrome, Firefox, Safari, Edge, etc., and make sure that it displays correctly1.

Analyzing your statistics. This can help you understand your site's performance, traffic, and user behavior. You should use web analytics tools such as Google Analytics2, Hotjar3, or Matomo to track and analyze various metrics such as page views, bounce rate, conversion rate, etc.45
These are some of the common website maintenance tasks that you should do regularly to keep your site in good shape. For more information, email to myshahril@gmai.com
If you have any enquiries about our products and services, please let us know so we may assist you. We also value any feedback that you may have about your experience with SHAHRILCS or ways that we can improve our service to you.
We are a team of professional IT experts based in Kuala Lumpur. We have the skills and experience to help you transform your business with digital solutions. We offer a wide range of services to help you get the best web and applications services. Whether you need a new product or an upgrade to an existing one, we can help you create highly optimized and scalable projects that deliver amazing user experience across all devices and browsers. We use the latest technologies and best practices to ensure your project meets your needs and goals. Contact us today and let us show you how we can help you succeed