Specialized Web Development, Graphic Design and Mobile Apps
We develop projects that are not only superior quality, but that perform better than your other competitors
Our team of highly skilled Professional Developers, Designers, and Strategists
Services For Your Business
We offer innovative solutions to businesses with the aim of improving efficiency, increasing productivity, and to save cost. We work with subject matter experts and reputable partners to deliver the appropriate solutions to our clients.
graphic design
We provide a full graphic design service to help you communicate your message using colour, style, typography, illustration and creative ideas.
web development
We provide rich, secured, interactive, enterprise website to promote business and an effective tool to improve ccommunications
MOBILE APPLICATIONS
We provide mobile apps, web client / server based application development and customization to fulfill clients requirement
We help brands design, develop, and launch great products.
We design and build the most sophisticated and feature-rich products using the most up-to-date quality standards, existing business strategies, and unique approaches, all while using an agile development strategy.
PLANNING
Client Requirements, Analysis, Collect Data.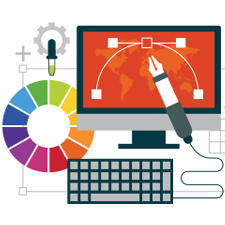 DESIGN
Wireframe layout, Prototype Design, Design Sign-Off
DEVELOP
Coding, Layout Main Section, Clients Feedback
DEPLOY
Design Quality, Testing, Approval.
Only Best Stories. DIVE IN!
Marhaban Ya Ramadhan, Pucuk Selasih Bertunas Menjulang,Dahannya Patah Tolong Betulkan,Puasa Ramadhan Kembali Menjelang,Salah Dan Khilaf Mohon…
a great place to show best opinions
"I would also like to say thank you to all your staff. ShahrilCS has completely fulfill our expectations."
"I don't always clop, but when I do, it's because of ShahrilCS. Thank you so much for your help."
"It was worth a fortune to my company. ShahrilCS done great job.
GET IN TOUCH & DROP US A LINE
because you deserve to work with the best!
F5 Desa Pandan
55100 Kuala Lumpur
WP Wilayah Persekutuan KL
admin@shahrilcs.com
carrers@shahrilcs.com
+601111448071
+60192430064